Pinene™ II (OMRI Listed)
CLICK HERE TO SEE COMPLETE PRODUCT INFORMATION INCLUDING CROP USAGE, REGISTRATION AND SAFETY DATA
Pinene™ II is a water-soluble extender and sticker designed to prolong the life of pesticides.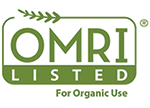 Features and Benefits
Will form a durable film in one hour, adhering pesticide onto leaf surface
Compatible with all pesticides and soluble fertilizers
Produces a protective shield from ultraviolet rays, wind and rainfall; conditions that would cause pesticide degradation
For use in aerial and ground applications
FAQ
How closely to harvest can you apply Pinene™ II with tolerance exempt pesticides?
If timing is a concern, you should use a reduced rate or not use Pinene™ II. The exact number of days will depend on environmental conditions.
Does time of day affect the application of Pinene™ II?
Under most conditions, apply sprays containing Pinene™ II with at least one hour of daylight so the protective shield can set.
Always read and follow the label instructions on the product container(s) before using.