MSMA Continues To Be On The Market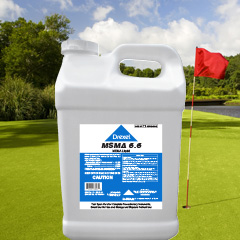 The Organic Arsenical Products Task Force (OAPTF) would like to clarify to its users and distributors that under the terms of the 2009 agreement with the Environmental Protection Agency (EPA) the sale, distribution, and use of MSMA products labeled for golf course, sod farms, and highway rights of way will continue.
With the regard to Cotton – the 2009 agreement with the EPA provides for unconditional re-registration for use of MSMA on Cotton.
The OAPTF in cooperation with the EPA has been advised that the December 31, 2013 use date restriction for the continued use of MSMA on Golf courses, Sod farms, and Highway Rights of Way has been rescinded. Persons having in their possession Drexel MSMA 6 Plus or MSMA 6.6, with this December 31, 2013 use date restriction on the label, may continue to sell and use the product in a manner described on the label past the December 31st date as this date has been rescinded by the EPA.
Click the following links for current labels on MSMA 6.6 and MSMA 6 Plus.
Please call your Drexel Sales Representative for additional information or any questions about MSMA.